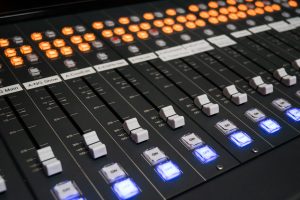 A lot has happened since Woof Boom Radio was formed in the summer of 2013, and it's been exciting to be a part of something that's constantly changing and growing.
Woof Boom Radio began with the stated vision: We use our voice to build our community. The improvement in our stations, our customer relations, and the values with which we operate our business are all in place to enable us to further this vision.
We are a company that is still in its infancy, even though many of our employees have been with these stations for more than 20 years. We realize our success and our ability to make a positive impact is in direct correlation to the people who open the mics, fix our transmitters, help our customers, and greet our listeners – the employees of Woof Boom radio. We are blessed for many reasons, but most importantly we are fortunate to work with people that share our vision for our company.
As the only locally owned and operated media group, we are proud to serve our community. We always welcome comments and feedback. Email us: ListenUp@woofboom.com or, if you prefer, give us a call at 765-288-4403.