Written By: Liz Valpatic, Digital Marketing and Promotions Coordinator
---
The best way to describe the last couple of months in one word would be: BUSY!
Imagine you're building a house…and all you have is the land. Sure, that sounds like a really big step in house building, and it is, but having the land doesn't mean you're all that much closer to having a home.
Rewind to September 2017 when we announced our newest acquisition: the old KLOVE frequency of 106.7FM in Lafayette, Indiana – our land.
That's it. We bought the rights to air on that frequency. We didn't even have a hammer to our name. But that didn't stop us from swinging at it full speed.
Enter, Jim Stone. Jim was the former Program Director, Operations Manager, and On-Air Personality for a group of radio stations in Rockford, Illinois, until we hired him to be our Managing Partner (read: Contractor Extraordinaire) for this little (read: HUGE) project.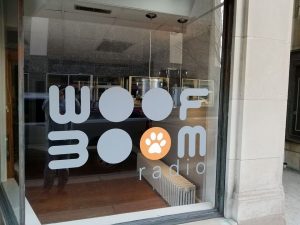 The next step was finding a location to operate this frequency out of – designing the blueprint.
It had to be somewhere visible, but where we could still send a signal out of. Sean Mattingly, Chief Engineer and now Architect, was on the case. They grabbed a realtor and started the quest, finally settling on a nice little store front on Main Street in downtown Lafayette.
Alright, alright, we found a place. That's all well and good. But now…what are we going to put on air? THIS step is like designing the interior as well as the exterior of the house. We had to make sure that it would be both something that our neighbors liked to listen to (curb appeal) and something that we felt good about putting on the air (feng shui?). That's when Jim took to the community – talking with business owners and potential listeners alike to gather what's important to them in a local radio station.
With that information in hand, it was time to finally claim our call letters and decide on a format – start the construction from the ground up.
Soon, we had the studio set up (foundation laid), walls painted (that one directly relates to the overarching house metaphor), office furniture organized (carpeted), transmitter installed (electricity wired), and finally, FCC permission (inspection passed).
Flipping the switch today – February 6th, 2018, at 1:06pm – was like installing the mailbox at the end of the drive.
Our frequency was a station.
Our land was finally a home.
It wasn't easy – there was a lot of blood, sweat, tears, free beer offered to random movers off of the street to help lift a desk, late nights, early mornings, close calls, but most importantly, fun.
So when you have a chance and you're in the Lafayette area, turn to the All New Q106.7, playing the best of Yesterday and Today, or stop by our location on Main Street and see the home we built.