By Sean Mattingly, Woof Boom Radio Director of Technical Operations
If you like to press buttons, this is the place to be.  We have interesting technical facilities that are growing and changing.
Woof Boom Radio owns 12 transmitters across 7 radio stations.  That's a lot of buttons.  Well, this month we made it 8 radio stations.  Can you name them all from memory by call letters and frequency?
WLBC 104.1 FM "Today's Best Music"
WERK 104.9 FM "Good Times Great Oldies"
WMXQ 93.5 FM "MAX-imum Classic Rock"
WBKQ 96.7 FM Blake FM plays new country
WHBU 103.7 FM & 1240 AM Anderson's Newstalk
WXFN 102.9 FM & 1340 AM "FOX Sports"
Did you catch that WHBU is on the FM dial now?  Yes, on 11/4/14, a new

radio station was launched to bring WHBU's local programming to the FM dial at 103.7 FM.  Over the summer, Management and my Engineering Dept. was busy digging-in to devise a way to add an FM antenna to the top of the existing AM tower.

See the 3 men climbing the radio tower?  Just an average day at the office for them, but very exciting for us!  Why was an FM station necessary?  At Woof Boom Radio, the stated vision is:  "We Use Our Voice to Build Our Community".  This new frequency will allow our local Anderson shows to be heard on the FM dial for the first time, a new audience.  Here's just one example.  There is an evening show called "Track Talk" that is performed live in front of a small crowd of admirers at our Mounds Mall studios.  This show, sponsored by Anderson Speedway, is carried on WHBU 1240 AM, simulcast on our 1340 AM Sports station in Muncie, and now also heard on WHBU's 103.7 FM.  We're engaging new audiences, and certainly some new racing fans, on the FM dial.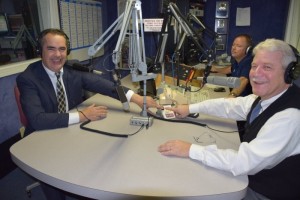 Tuesday, November 4th, 2014 was the day Woof Boom Radio President J Chapman, along with Anderson Mayor Kevin Smith pressed the button to start the new transmitter for 103.7 FM.  Morning show host Sean Harshey looks on.
WHBU AM is the second oldest radio station in Indiana.  Today the FM station is the newest radio station in Indiana.  It's a pleasure helping the company to press all the right buttons at the right time.  We're certainly carrying out a mission to be "Our Customers' Best Marketing Partner".